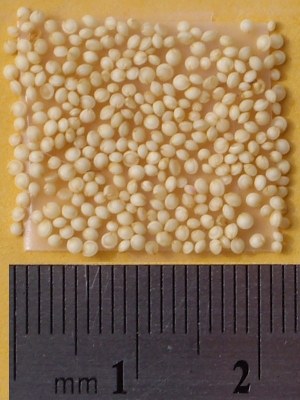 View larger image
Amaranth - amaranth has round and slightly flattened seeds from 1.0 to 1.5 mm in diameter. The seeds vary in color; in this example, they are off-white -- lighter in color than ivory teff, but slightly darker than white poppy seeds (see below). For most grains, the marketplace prefers lighter colored (white or tan) seeds, which also tend to have a lighter taste. The reduction in tannins found in lighter grains may make the nutrition in the grain more accessible for digestion, since tannins are an anti-nutritional factor that bind to proteins.

Although the grains are small, production with conventional grain crop equipment is practical. Recommended seeding rate is only 2 lbs per acre, but seeding rates as low as 0.25 lbs per acre can produce acceptable yields (1000 or more lbs per acre).

Harvesting amaranth is easier than with other grains, since each amaranth plant produces several ounces of grain. It is easier to cut a few large amaranth plants at harvest, rather than many shorter rice or wheat plants. And as a pseudo-cereal, amaranth grain has no hulls. After harvest, the grain is threshed (separated from the plant), cleaned and dried. No hulling or milling is necessary. In the developing world, amaranth would be an excellent crop to grow alongside the more common staple grains. Other grains require substantial manual labor to remove the hulls. Amaranth provides excellent nutritution with much less labor.

Amaranth grain is a complete protein, with more total protein (13.56% per USDA Nutrient Database SR23) than many other grains, and sufficient percentages of each essential amino acid.